The Mom Initiative
Mothers on a Mission to Mentor Other Mothers
By Shelly Brown on Mar 29, 2014 01:30 am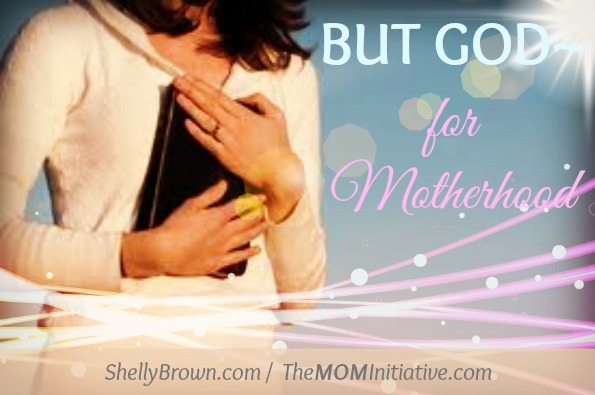 I have a confession to make.
I am not a perfect mom.
I've been too hard on them. I've been too lenient. I've said things I regret. I've gotten angry and I've yelled. I've said "yes" when I should have said, "no" and I've said, "no," when I should have said, "yes."
I've cleaned up their messes when they should have cleaned it up themselves. I've played the mom guilt card, though it rarely worked. I've bailed them out when they should have learned the hard way. They've learned the hard way when I should have bailed them out. I've indulged them at times when they should have been denied and denied them at times when it was okay for them to be indulged.
BUT in the midst of my imperfection, in praise, I shout these words from the mountain top of motherhood:
BUT GOD!
Simply, two of the most powerful words in Scripture!
BUT GOD
remembered Noah
…
BUT GOD
is the strength of my heart
…
BUT with GOD
all things are possible
…
BUT GOD
gives grace to the lowly
…
BUT GOD
meant it for good
…
BUT GOD
raised Him from the dead
…
And, perhaps one of my favorites,
"BUT GOD who is rich in mercy …"
Mercy means, NOT getting what you deserve.
Think of it this way … If you've ever been pulled over for speeding and the nice police officer lets you go with a simple warning, he showed you mercy. You didn't get what you deserved: a $250 speeding ticket!
But God, who is rich in mercy
… will hear the repentant and faithful prayers of His daughters. So no matter how imperfect a mom you or I may have been … repent of your failures, and then let it go!
Trust God to restore and redeem.
After all, it is what He does best!
And pray! Pray for your children like there is no tomorrow! Pray specifically for them to own their own faith. From their earliest years, and as they grew, their faith was our faith. We taught them, and they mimicked our beliefs. But, at some point, it must become their own, genuine faith.
I've shared this here in a prior post, but it's worth repeating …
My friend, Karen Jantzi once shared in a radio interview how she prays for "crop failure" in her children's lives.
Now, I make that a common prayer as I pray for my children. I pray that the defective seeds that were sown into their lives would not take root, and if they have taken root, that God would allow for crop failure causing the bad crops to wither and die.
The truth is …
Only God could love our kids more than us.
Only God could want them to walk in Truth more than us. Only God can draw them to Himself. Only God is so rich in mercy and love, that we can trust Him with the most precious part of our lives … our children.
"But God" verses: Genesis 8:1, Psalm 73:26, Matthew 19:26, Proverbs 3:34, Genesis 50:20, Acts 2:24, Ephesians 2:4
WHAT ARE SOME OF YOUR FAVORITE "BUT GOD" VERSES? HAS THIS ENCOURAGED YOU TODAY IN YOUR MOM JOURNEY?